Charles Bradley – "Changes"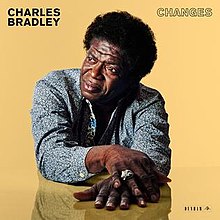 By: Sam Schultz
At 67 years old, Charles Bradley still puts out some of the most soulful music you'll ever hear, and his newest Album "Changes" seeks to keep it that way for a long time to come. "Changes" is not only a representation of Charles' understanding and appreciation for love, but it's also a representation of the surrounding world that he sees himself in currently. The song, "Change For the World" has Bradley urging people to change the way they look at one another. "Blacks depreciated, If we're not careful, we'll be back segregated./Change for the better of your soul/We gotta change our love/We gotta change for the world/ I got to give you my love." Growing up in the Civil Rights Movement, Bradley knows first hand the hard and difficult path for equality and he fears that any progress we have made is on the verge of reversing at any time. His music asks us to make a simple change, a change towards love. "Put away the guns, and take this love." These words paint a picture of the ever-present police brutality that continues to plague our country. Charles has been very active in the media, voicing his opinions on gun violence and this song reiterates his feelings.
In "God Bless America" Bradley preaches about his home of America. "America, you've been real honest, hurt, and sweet to me/Just know that all the pains I've been through, It made me stronger, to stand strong that know that America represents love for all humanity and the world." Even though Charles has endured hardships in this country, America is still his home, and for him home is a place where you should be loved and able to live without fear. This song really strikes a cord with me. With all the problems our country faces these days, it's hard sometimes to think of America as a place that represents love for all, but if Charles can still see the good in America then I think anyone can. Our country is such a diverse mix of people that are beautiful in so many unique ways and Charles sees America as a loving home for everyone.
It wouldn't be a Charles Bradley album without a song our two about love when it comes to relationships. "Things We Do For Love" is a relaxed but groovy song about the lengths many of us go to in attempt to receive love from someone. "The things I do and say to you baby, for love." Although the pursuit of love can be hard and frustrating, Charles' voice comes off as cheerful and almost as if he is laughing at what love does to us. When pursuing love many of us often find ourselves changing how we act or saying what we think someone wants to hear in an effort to convince him or her that we are worth loving. I think what Charles wants us to understand is that we shouldn't have to change ourselves to receive love. Love is, and always should be, a two way street. It needs to be reciprocated equally between both people. I picture Charles looking back on times when he changed himself for love and smiling. He knows what a powerful force love is and what it can do to us. So, what I believe this song tells us is to keep pursuing love, but to be yourself and try to enjoy the journey. If we do that, eventually love will come naturally to us all.
The song that best demonstrates the adversity that Charles has faced in his life is his cover of Black Sabbath's "Changes." "My heart was blinded/ Love went astray/ Wish I could go back and change these years/ I'm going through changes." A sad tone can be heard through most of the song, but it almost ends on a triumphant note with trumpets ringing in the background. From growing up in the Civil Rights Movement, to his mother dying, Charles recognizes the hardships he has faced, but he continues to change and move forward in life putting to rest any doubts that the world throws at him.
"Changes" sees Charles Bradley making a genuine call for people to understand not only what love is but to spread that love to everyone and anyone we may come to pass in life. Sometimes love is forgotten by many of us, and I think this album is a way for Charles to remind us what a powerful force love is. I encourage everyone to take some time and listen to "Changes" all the way through; You may just start to see that making a change towards love can not only benefit you, but our country and the world too.
---
---