Fleet Foxes – Palace Theater 9/30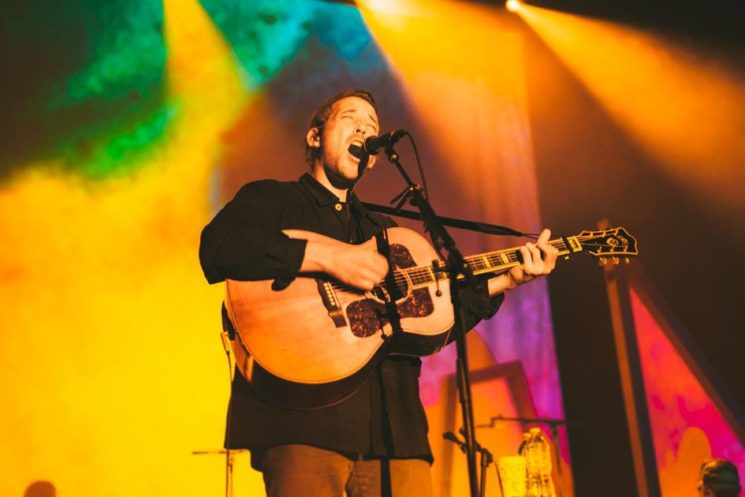 By: Mitchell Roers
Few artists succeed in sounding as good live as they do on their studio produced albums. Being used to listening to an album that has been tweaked and perfected in a studio environment, as well as the challenges that go with perfecting a band's on-stage sound commonly leads to fans experiencing an artist they viewed as "not as good live." There was no such feeling, however, when Fleet Foxes took the stage at Palace Theater this past Saturday, where the Seattle based Indie Folk band took the audience on stroll through the serene Autumn landscape they crafted throughout the night, which also included some of the best live production I've ever experienced.
Although the band is coming off a four year hiatus, which is the result of the departure of drummer/percussionist Josh Tillman (who has since found much success as a solo artist under the alias Father John Misty), as well as frontman and group leader Robin Pecknold quietly enrolling as an undergrad at Columbia University, the band hasn't missed a beat. In this massive eighteen song set (followed by a three song encore), the group wowed the audience both with their awe-inspiring full band sound, as well as with intimate solo acoustic performances by Pecknold. Musically, the band did everything they needed to to create fantastic sound quality. The mix/levels of the instrumental and vocal sounds was perfect, which was ever present on songs such as Helplessness Blues and Third of May. The blend between Robin's voice and the backup vocals was smooth and complimentary, creating some beautiful natural vocal harmonies. Furthermore, the sheer musicianship and professionalism of each member of the band was indistinguishable, reminding us that this was a band worthy of all the critical acclaim they've received throughout the last decade.
The visual production of the show was minimal, but effective. The few abstract set pieces on stage (which to me looked like they were supposed to resemble mountains), the subtle light show, and the unique and interesting on-screen avant-garde visuals combined to create an atmosphere that appeased concert goers, while making sure to not take away from the music. All in all, Fleet Foxes shined in providing the perfect show to kick off October and connect with both the diehards and casual listeners in the crowd, making sure fans left Palace Theatre feeling euphoric and with a smile on their face.
Highlights: Helplessness Blues, Blue Spotted Tail, Ragged Wood, Battery Kinzie, The Shrine/An Argument, Third of May/Ōdaigahara
TL/DR: Fleet Foxes triumph at sold out Palace Theatre performance, combining excellent sound production with unparalleled musicianship to create the perfect autumn concert experience.
---
---